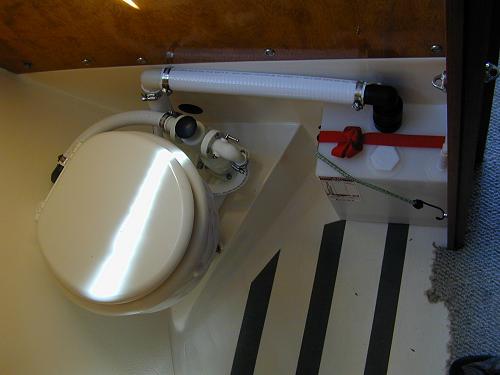 Portable Holding Tank

I thought a lot about this before I went with the solution you see here. Originally, C27's did not come with holding tanks. If a toilet was installed, it just emptied directly through a thru-hull. I knew I had to change this but I really didn't want to add a full holding tank system to my boat. For one, I didn't want to drill the holes in the deck and hull for a pump-out and vent, but mainly I didn't want the 'head smell' you find on so many boats. My boat has always smelled fresh because it never had a holding tank. I figured if I installed a proper tank, I probably wouldn't be able to pump it out every time it was used. Even when you do pump it out, you can't pump it dry. Either way, there would always be a little waste in the tank generating odors. I wasn't sure I would be able to completely avoid the odors since I didn't want to add multiple vents or an active aeration system.

For a while I thought I would just install a porta-pottie. This would allow me to completely flush the tank after every use. But all the porta-potties seemed cheap plastic and I was concerned about their ability to hold odors in. Finally, I came up with a middle-ground solution. I kept my existing toilet (a Raritan Compact), closed off my thru-hull with a brass end-cap (photo) and ran the toilet outlet to a small holding tank that I could easily disconnect, and dump into a toilet ashore. It's a porta-pottie but with a nice seat and a water intake. The holding tank is the Todd 3 gallon and all the fittings are PVC. The hose from the toilet runs down at an angle to the holding tank so it drains completely when flushing. It has a fitting that presses firmly into the fitting on the holding tank. I also have covers for both pieces when I take it apart to empty. For a vent, I just have a small hose on the vent to allow air to escape when the toilet is being flushed.

My philosophy about my head is that if at all possible, I (and my guests) will use the bathroom ashore. If I'm under way, or I need to go at night while anchored, or I just don't want to walk down the dock, I have access to a toilet. It can't hold much but I expect to empty it every time after it is used. I intentionally kept it small to make it easy to carry and so it would fit in the head compartment. As an added bonus, I have all the space under my seat intact and not taken up by a large holding tank. I think it will work fine for day trips and weekend trips where I have access to facilities. I will probably add a Y-valve so I can just flush overboard when I am in appropriate areas in Canada. Will it work? I'll add a report at the end of the season.