Solo September Sail - Part One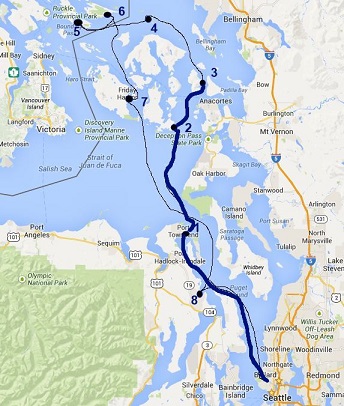 I first started sailing in 2003 when I purchased a 27' Catalina sloop and started fixing her up. Early trips with Gata Luna were full of adventure and as I gained confidence on the water I ranged wider and wider. Now, many years later, I have a bigger boat (and a bigger family) but we still enjoy spending time in the islands and typically take one big trip together every summer.
This summer was a little different in that we did not take our usual long boat trip north. Family and work commitments kept us in the city and it was quickly September. After finishing a large project at work, I saw a weather window appear for a week of sunshine as high pressure built up over the pacific northwest. I figured this might be the last good weather of the summer and decided to squeeze in a sailing trip. My daughter was back at school and my wife involved in projects at work. My friends were busy as well, so it would be a solo trip. I figured this was a good chance to hone my skills as a sailor and explore some new anchorages. So with minimal prep, I left Seattle on a Friday evening with a friend to get through the locks. Docked in Shilshole, just outside the locks, my friend headed home and I went to sleep early so I could start my trip at dawn to catch the tides north.
As with previous travelogues I will try to let the photos tell the story of my journey (click on the photos to zoom them.)
---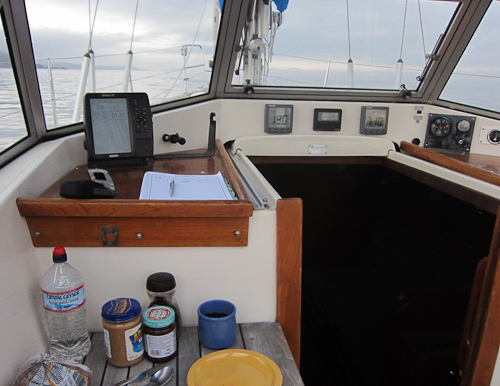 Breakfast At Sea

This is a view of breakfast underway. My GPS chart plotter (square unit to the left) shows my position on top nautical maps. When under sail or power, if I have a specific destination or route, I will set waypoints in the plotter. This allows me to know which direction to point (even in fog) and it also calculates how long it will take until the next waypoint. It can even tie into my autopilot (which steers for me.) Otherwise, it tells me where the rocks, land, and Vessel Traffic lanes are as I travel through the sound.

The other three instruments over the companionway are the depth sounder, wind indicator, and knot meter. If you look close at the chart plotter and knot meter you will see I am doing about 7 knots (9.2 mph). This is close to my hull speed (which is the maximum speed the boat can go through the water).

The winds were light so I am motoring. While underway (by sail or motor) I sit in the cockpit and keep an eye on my instruments and look out for other boats, logs or anything else in the water I might hit. I also watch for freighters and stay out of the traffic lanes where they travel. Finally, I keep an eye out for porpoises, whales, and other wildlife.
---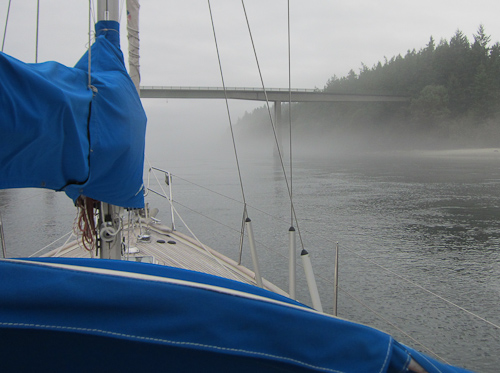 Into the Fog

My first stop was Port Townsend (#1 on the map) – a beautiful nautical town on the edge of the Strait of Juan de Fuca, about 40 nautical miles from Seattle. With the tides in my favor, I can make it from Shilshole to Port Townsend in 5 hours or less. The tides ranges in Puget Sound can exceed 15 feet and the currents along the route to Port Townsend can run 2-3 knots. When the current is with me, I can increase my speed over ground by 50% - up to 11 knots. When they are against me, well, it is slow going. Therefore I have learned to plan my boating with the tides in mind.

Although there was high pressure, we had strong onshore flow which meant fog. I spent most of that first day in clear weather (although no wind, hence the sail cover still on the sail). Approaching the Port Townsend canal from Oak Bay, I saw my first fog. As the fog enveloped me, I turned on the radar and immediately saw my surroundings again. Once in a while, I would see a dot on the screen move in relation to me and sure enough, a boat would magically appear out of the mist. I am still learning this technology but it makes me feel safer knowing I can peer through the fog and see potential dangers.

I played with the radar all the way through Port Townsend Bay and to the anchorage off the town when I broke back into the sunlight again.
---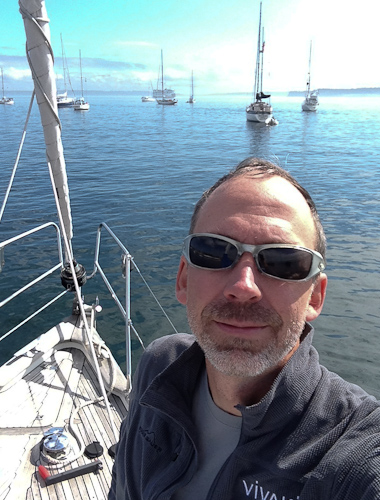 Port Townsend

I was in Port Townsend for the Wooden Boat Festival. This annual event brings wooden boats (and boat lovers) from all over the west coast. Having spent my fair share of hours working on boats, it is humbling to see the before and after photos of some of these boats. Many are restored to perfection with solid hulls, mirror smooth varnish and polished brass representing thousands of hours of work. It takes a certain kind of person to devote that much time to perfecting a boat. I understand these people and admire their passion.

Since the marinas are full of vessels from the show, visiting boats are forced to anchor off of town. In years past when I anchored among the crowds, I've woken in the night when boats started banging together as the wind shifted. This time I was wary and anchored out past most of the boats near the ferry dock. I had a long way to row to the dingy dock but I slept easier (although exposed to ferry and freighter wash, the anchorage is fairly rolly.)
---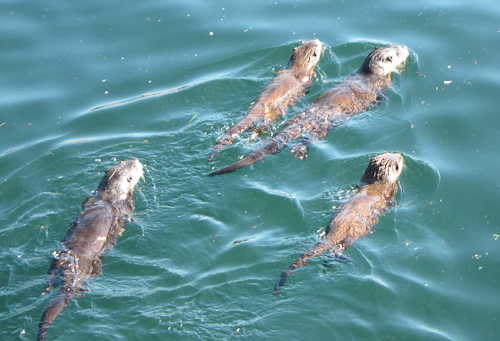 Otters

Off the dingy dock in Port Townsend I watched a family of river otters play and eat together. Yes they are cute. And delicious.

River otters can be found in both fresh and salt water and swim on their stomachs. Sea otters are found only at sea and will typically float on their backs. There are sea otters in Washington but they are all found on the coast, not inland.
---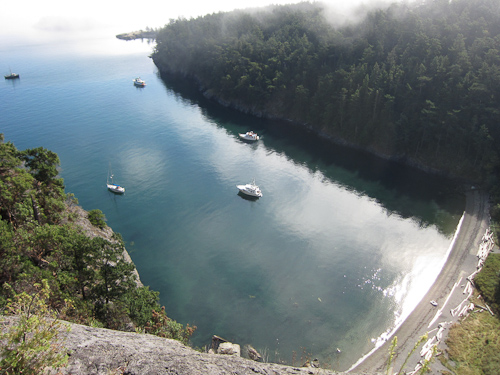 Watmough Bay

After crossing the Strait of Juan de Fuca in clear skies and calm conditions, I pulled into Watmough Bay (#2 on the map) at the south end of Lopez Island. On this trip I wanted to try some new anchorages but Watmough is one of my favorite places in the San Juans and I couldn't pass it by.

Given a bad rap in some of the boating guides as having poor holding for anchors, it does not see a lot of visitors. With a beautiful beach, surrounding parklands, and a cool cliff to scramble to the top of, there is a lot to do here. They recently added mooring balls to protect the eel grass so perhaps it will become more popular with the anchor-adverse crowd. That will be a shame.

This is a shot from the top of the cliffs looking down at the anchorage and the beach. My boat is the lower left one. If you look close, you can see my dingy on the beach.
---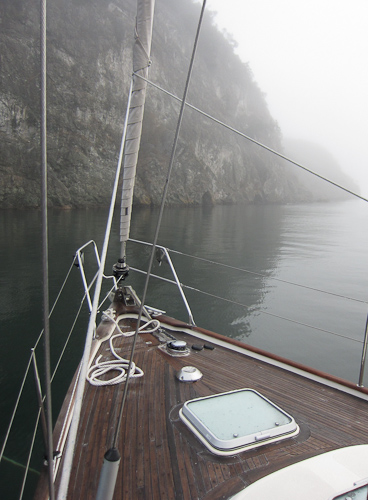 Morning Fog

After a quiet night, I was greeted by fog the next morning. With plenty of projects to do on the boat, I simply hunkered down, turned on some music and spent the morning organizing my supplies and doing various repairs or maintenance. I could have stayed another couple of nights, or the entire trip here but the lure of new experiences was urging me on. When the fog cleared and the wind kicked up in the early afternoon, I hoisted sail and headed out.
---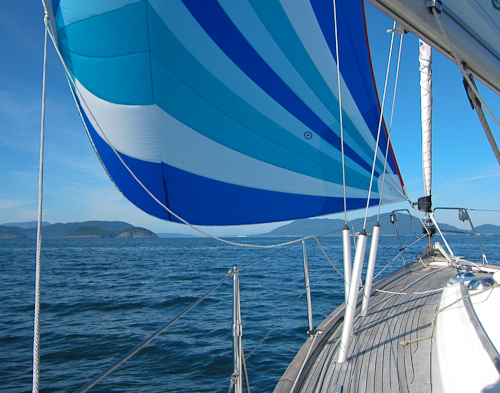 Flying the Kite

Two years ago at the boat show I purchased an asymmetrical spinnaker. This is a large sail made of parachute type material that you use when sailing down wind or in light air. They are a bit tricky to set up but they allow you to sail when you would normally motor. I had never set the sail by myself but with fairly light breeze I figured I could handle it.

It has a "sock" to control it. You hoist it in the sock, rig the sheets, then lift the sock up and the sail comes out and fills with air. Or it makes a big mess if you screwed something up. When I did it, it worked perfectly and the sail filled with a satisfying snap. Soon I was making 3 knots in about 5-6 knots of wind which is pretty good. When it was time for it to come down, I simply lowered the sock over the sail, snuffing it. I then lowered the sock (with the sail inside) back to the deck and stuffed it in the v-berth.
---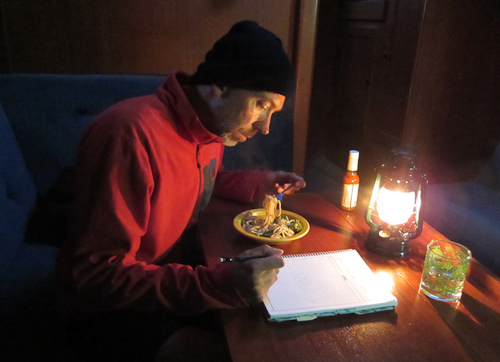 Evening Meals

My next anchorage was Cypress Island (#3 on the map). Almost the entire island (5,100 acres) is a reserve and there are over 20 miles of hiking trails. The trail I was interested in climbs up to Eagle Cliff and offers sweeping views of the San Juan and Gulf Islands.

Because I spent so much time messing with my spinnaker, I arrived fairly late and grabbed a mooring ball behind Cypress Head. I went ashore for a quick hike then came back to the boat for dinner.

Being September, the sun would set around 7:20pm. In the evening, I would sit in the cockpit and enjoy the fading light. Then I'd go below to have dinner, write in the ship's log, read, and plan the next day's sail. Life fell into a routine and I felt some of the pressures of the previous weeks fading away.
---
Part Two
Copyright 2013
Scott Semyan